It's been a while since we released Kabayakiya's symmetrical doujinshi "Night Service Story", so we thought the time was ripe time for another one of their amazingly sweet doujinshi. We present to you: Her True Face 2.

This is another one of Kabayakiya cute, sweet, but lewd stories. The premise is fairly simple, and merely has Nitta having sex with her boyfriend in a love hotel. It's the execution were Kabayakiya excels: the artwork is clean, bodies are very curvy and action is very intense. In fact, Kabayakiya might win the prize for the most detailed and erotic blowjob on our site. Why has the concept of eye contact during blowjob fallen off recently, when it adds so much to the scene, will forever be beyond us. Luckily, Kabayakiya cares not for these bad trends and delivers in full in this doujinshi.
For those who are wondering why there's a "2″ in the title, we can can confirm that a prequel to this book indeed exist. But, it is with great sadness that we must confirm that the uncensored artwork of "Her True Face 1" has been lost forever and lives on only in author's heart. We have therefore chosen not to publish the censored version as not to the defile the loving memory of "Her True Face 1″. May it forever rest with merged layers.
On a brighter note, here are some sample pages to lighten the mood: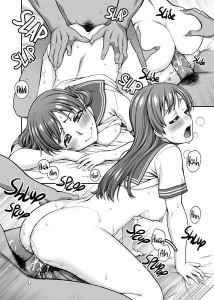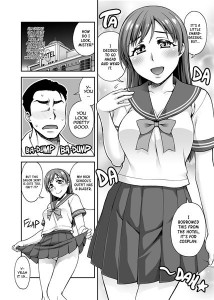 (As always, higher-resolution samples are available on the store page.)
"Her True Face 2″ is available for purchase right now in our online store.