After we've published three of Aoba Q Madou's doujinshi that take place in the author's original setting, we though it's time to spice things up with two parody stories. First of them was our previous release, that featured girls riding tanks, and the second will be today's release, "Futanari Ushio's Naked Training -Kantore!-", that features (ship) girls working out.

One beautiful aspect of Kancolle is just how absurd the setting is, once you stop to think about it. And when the setting is inherently absurd, you can have absurd stories happen in it, without breaking the suspension of disbelief.
For instance, imagine if ship girls breasts size correlate to their armor value. Now imagine that upgrading the armor value also increases the ship girls breasts size. Also, sudden breast growth may cause the girl to have problems with balance. Are you following? Now imagine that one way to counteract the decreased stability is to lower the center of gravity. For instance, by using ballast tanks. Still following? So the conclusion is that ships girls are futas that must train maintaining their erections during combat!
Perfectly sane logic, no mental gymnastics needed, as long as you accept the existence of ship girls in the first place. And if you can't do that… well, Kancolle is not for you.
With that out of the way, let's discuss this particular doujinshi, set in a world where futa ship girls need to maintain erections in order to increase stability. Ushio had her growth spurt and now needs special masturbation training to increase her stability during combat. Her instructors are Nagato and Akitsu Maru. Lots of kissing, stroking, fellatio situps and onahole push ups ensue. Mix in some light whipping in the latter half and a lovey-dovey sweet ending, and you have a yuri futa gem on your hands. And somehow, no actual penetration in sight…
Here are a few samples (higher resolution available on the store page):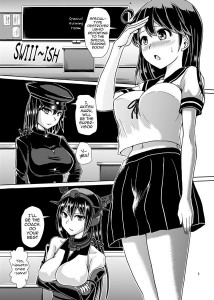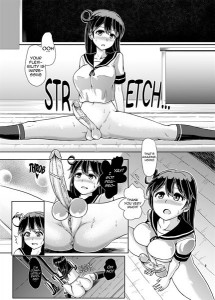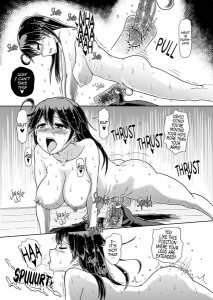 Futanari Ushio's Naked Training -Kantore!- is available on 2D Market store right now.