The time has come! Today we have for you the next chapter in Shouwa Saishuu Sensen's story of the adventures of DQ3's female protagonist who didn't grind when she was supposed to. The eighth chapter of this world-trotting saga is called "Road to Isis Arc".

Before someone gets the wrong idea, "Isis" in the title is the name of the city. A name that is probably inspired by the ancient Egyptian goddess Isis. Okay, let's move on.
As with the previous chapter, the story takes place in the Middle-east-inspired city of Asham. After "rescuing" Mage (actually, buying her as a slave), Hero and Master are preparing for their trip to the desert city of Isis. However, Master is looking to recuperate some of his losses and "asks" Hero to procure some funds. He also helpfully introduces her to an establishment that would allow her to earn tons of money fast.
Unless this is the first ero manga or doujinshi that you're reading (in which case, hello and enjoy your stay), you can guess what exactly this entails.
The art in this book is the usual amazing fare from Hanauna, with all the female characters being drawn incredibly cute. So much so, that you almost feel bad for the rough sex that happens. Almost. (They enjoy it.) We also get the glimpse of some Mage action, and she does not disappoint. After seeing her jugs in action, you'll be glad to hear that she joins the party permanently!
A few sample to get your juices flowing: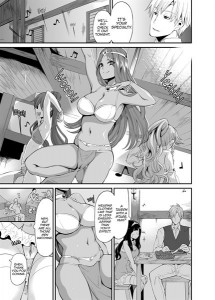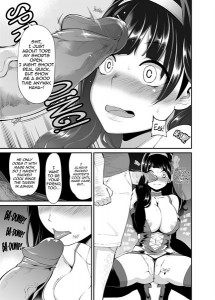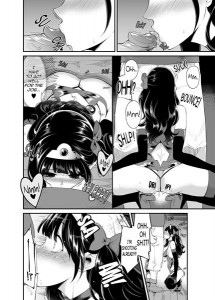 Benmusu Ch.8: Road to Isis Arc is available right now on 2DM store.