If you've read the first doujinshi in the "Look, Master! Boobs!!" series from circles Toybox and Kujira Logic, you are familiar with its selling point: ️️️️️. And boobjobs, of course. So, since we're bringing you the sequel today, "Look, Master! Boobs!! 2", you should not be surprised at this cover page:

As with the previous volume, "Look, Master! Boobs!! 2" consists of two halves, drawn by Kujiran and Kurikara, respectively. And while Tamamo still stars in the first, Kurikara's, half, the second half takes a more varied approach. Big breasts and boobjobs are stil the primary focus, but the provider of said boobjobs is not Caster, but BB, in all her yandere glory. Red Saber also has a two-page cameo at the end. The whole thing just shows how much of a variety you can have, all while keeping the breasts at the comfortably huge sizes and large quantities.
The story again takes the backseat, with the Master being mostly a silent protagonist. This literary trick is perfect for this kind of story, since it allows the girls to deliver their exposition as dirty talk. It also removes all agency from the main character, but hey, that what's he gets for having no breasts in a titty doujinshi.
During the course of her story, Caster changes her outfit several times. It really makes you appreciate the efforts that was put in the source material designs. Here are a few pages to give you a sample of what's to come: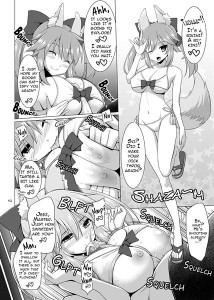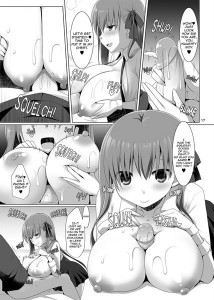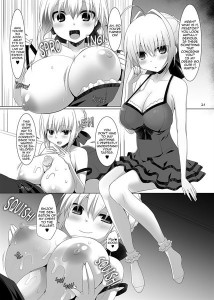 Look, Master! Boobs!! 2 is available in 2D Market store now.