Today we're releasing a doujin from the last circle among the ones we announced back in February. And, oh boy, did we leave the most intense one for last. Without further ado, we present you "Anna and the Witch's Tentacles" by circle G-Power!.

The main theme of this doujinshi, as is apparent from the cover and the title are tentacles, but but but…! But, this is not just your typical mom 'n pops tentacle doujinshi, oh no. First off, everything is 100% consensual, which means our lineup on consentacle doujinshi is increasing even more. But the most unique part of this doujinshi is that both of the girls you see on the cover, Anna and Fignelia take a pretty large chug of "sexual performance enhancement potion" before tentacles even come into play. Fignelia also outright snorts a few lines of unspecified white powder. All of that contributes to the fact that we get a few pages of yuri action even before the tentacles show up. But when they do… Oh man, it goes from zero to eleven in no time.
What follows is 22 (!) pages of pure tentacle joy!
Tentacles themselves are varied in shapes, sizes and function, as can be seen on the cover, but SASAYUKi (the artist behind G-Power)'s strength show itself in the way each panel of every page in that second part is just overflowing with slime and tentacles. Nothing illustrates the fact that the girls are basically suspended in the large lump of writhing tentacles as strongly as having them basically be drawn in the background of the large mass of undulating meat on almost every page.
The girls themselves are enjoying every second of what's happening and that's illustrated not only by a huge smile that both of them have during the whole act (just look at the cover), but by an incredibly erotic and almost delirious lines they both spout throughout the doujinshi. Just as we mentioned in the first paragraph, it's intense.
Sample pages alone can't convey the sheer awesomeness that's contained in this doujinshi, but they can try: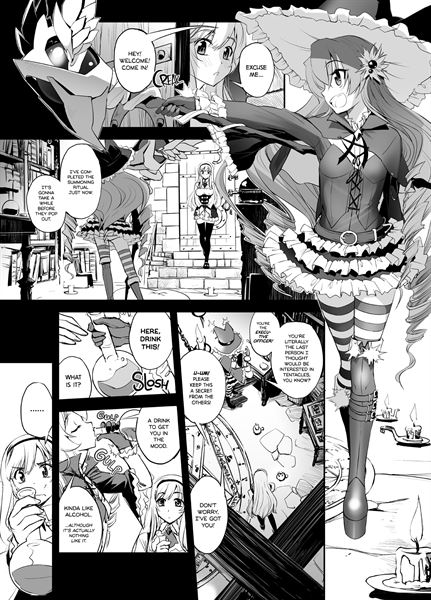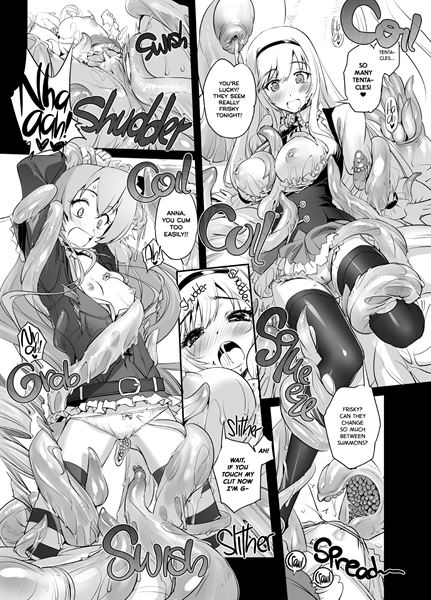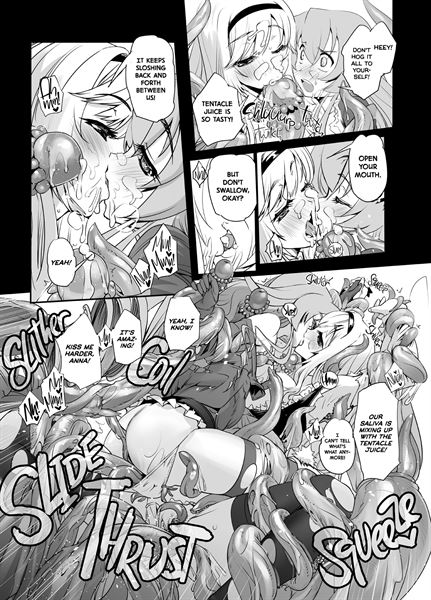 Anna and the Witch's Tentacles is available now on 2D Market store.