Today we're bringing you a second Aoba Q Madou book in this month! What does that mean? Will there be a third one?
No, there won't be, as much a month filled with nothing but Aoba Q Madou releases would be a glorious month indeed… Next Aoba Q Madou book will come out a bit later. For now, we should enjoy the latest issues in the "Joint Futanari Practice" series. We published the third issue in April last year, so this "Joint Futanari Practice 4" is long overdue.

While we've seen Milky and Rin do their own things in the spin-offs, this is the first time in a while that we see them together. Thematically, chapter 4 takes cues from chapter 3: Rin and Milky go on a vacation to the place that's filled with naked futanari girls. Only this time, it's not an onsen resort, but a nudist futanari beach. Also, while in chapter 3, both of them started flirting almost immediately they got in the bath, this time they're forced to hold back and keep it under wraps (or under a beach towel, to be precise): the notorious cockguards are keeping the whole beach under close watch, presumably to prevent it from devolving into an open-air orgy. If the mention of "cockguards" surprised you, please remember that you're reading an Aoba Q Madou doujinshi: they are every bit as absurd and silly as they are sexy.
At this point in the story, a helpful stranger point our heroines to a nearby tidal island that's outside of the watchful eyes of the cockguards, where they'll be able to spend some quality time together. You can guess where this is going, so we'd rather divert your attention to the helpful stranger, the tanned employee of the Futaya beach bar. While she only appears on three pages in this doujinshi, she's going to get her own spin-off doujinshi on the next Comiket. This information, as well as selected exclusive uncensored images is available on the circle's Patreon page. Make sure to support them there too if you want be informed about the latest developments in the futaverse.
As for the art, fans of Aoba Q Madou know exactly what to expect and they won't be disappointed, but for the newcomers, we'll mention that all the girls are cute and voluminous, and all the characters have expressive faces and that the dicks are drawn in great detail. What more could you ask for?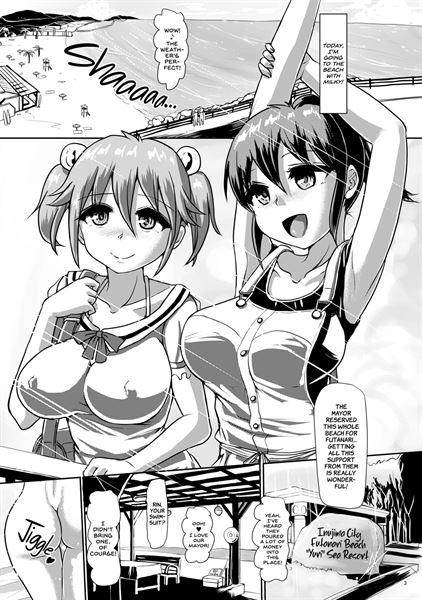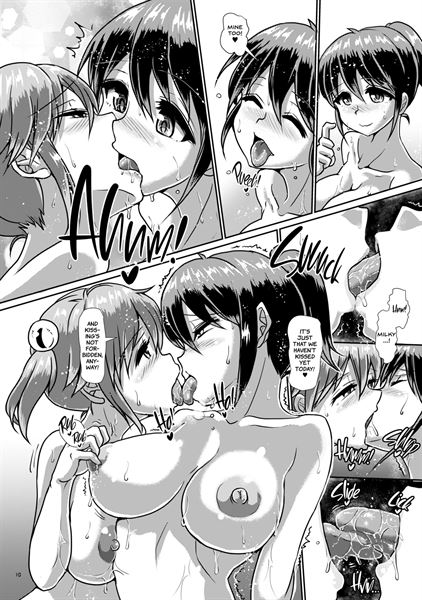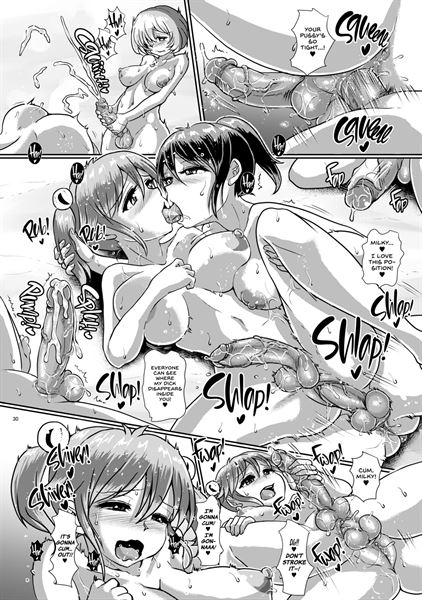 Joint Futanari Practice 4 by circle Aoba Q Madou is available right now in 2D market' store. Enjoy yourself!