Please allow us to extend you a warm welcome to our very special celebration of a beloved 2D Market artist. It's Mucha Week, everyone! All our releases are from Circle Muchakai, one of the two circles to join us for our launch. Last week, we've had five releases by Mucha, covering a variety of erotic topics. A true demonstration of the skills of a master mangaka.
The releases were Mako-chan's Development Diary ch. 1, Switch 'n' Shlick, There's No Way Zero Could Ever Lose to Drugged Sex, the remake of Threatened Reika-chan, and Feminine Top, Boyish Bottom a la Mode. We've already wrote at length about Mako-chan, so let's introduce you to the others!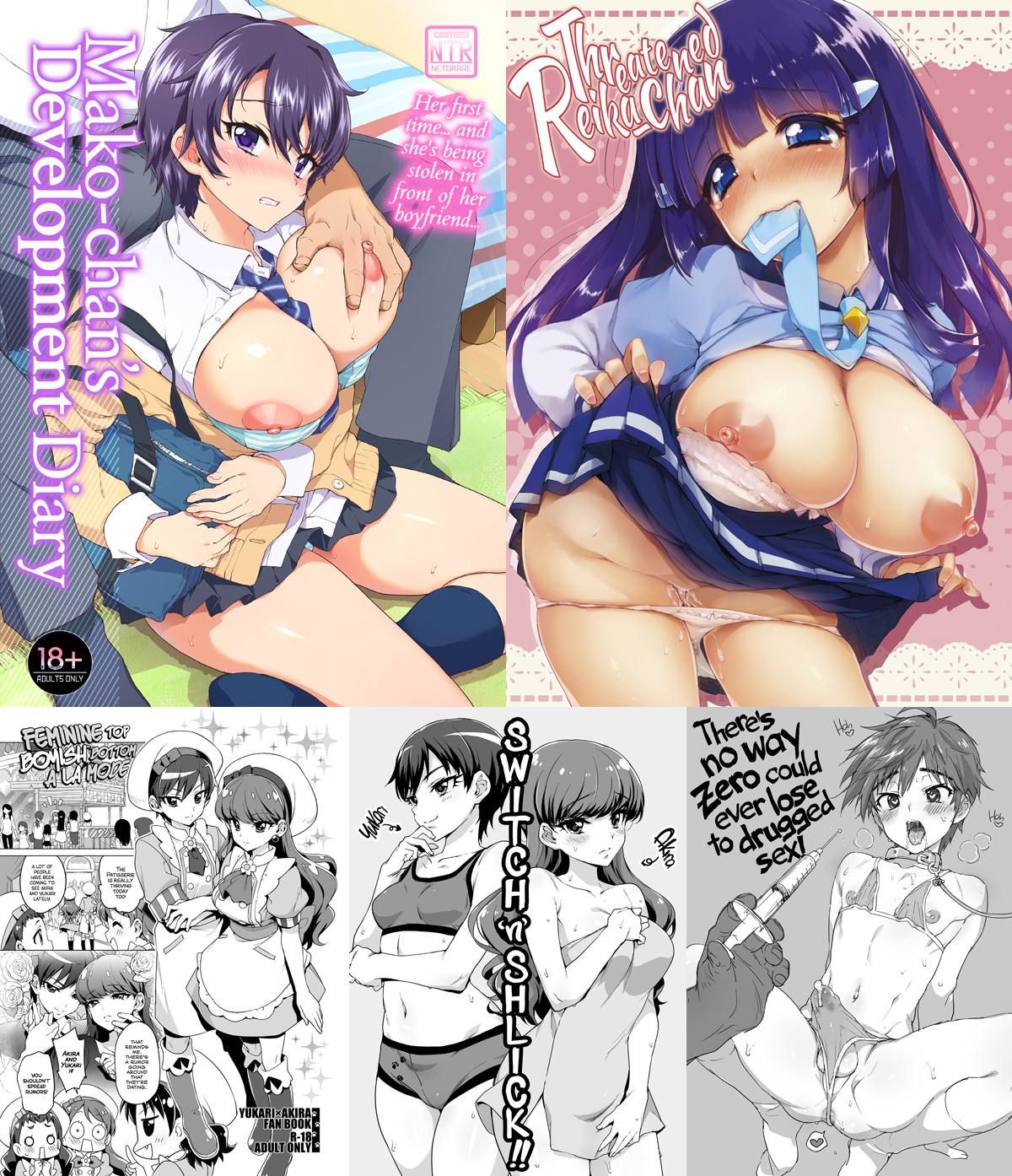 Three of the releases are short little booklets, so let's go over those first. Switch 'n' Schlick and Feminine Top Boyish Bottom a la Mode are both yuri releases starring Yukari and Akira from Kirakira Precure A La Mode. You may recognize this pairing from another recent release. These may be stories about the same pair of girls in love, but that's where the similarities end!
Switch 'n' Schlick has Akira and Yukari swapping bodies and getting to know each other from a new angle. Akira is embarrassed, not sure what she's allowed to look at, and overwhelmed by the softness of the body she's in. Yukari, by contrast, is thrilled to experiment with her lover's slender body. By the time their condition has solved itself (like it always seems to), each girl has left the other quite a mess!
Feminine Top, Boyish Bottom a la Mode finds Akira and Yukari working together at a patisserie. Akira works dutifully, but Yukari isn't exactly taking it seriously, treating their shifts together as vibrator dates! She'll push Akira to her absolute limit with the massive, bumpy dildo hidden under Akira's sensible work pants. By the time the shift's over and Akira and Yukari have a moment alone, Akira's at a breaking point and it's time to get spicy.
The final booklet is the most different from the other Mucha works we've been put out this week: There's No Way Zero Could Ever Lose to Drugged Sex is one of those rare titles without any ladies. Never fear, though! Zero's cuteness is off the charts as he struggles to keep his head together under the influence of both narcotics and dick.
Lastly, we have Threatened Reika-chan. This is a special release for us because it's a re-release! Our standards have changed as the years have gone on, but good doujin deserve great treatment, so we've gone back and given darling Reika-chan an update.
And it's totally worth it, because Reika's cuteness and sweetness in this doujinshi cannot be overstated. She'll blush and worry even as she does the lewd acts her blackmailer forces her into. Whether he's shoving his fat tongue in her mouth or ordering her to show her bountiful breasts to a total stranger, Reika can do nothing but obey. After all, her friends are on the line!
Don't wait! Get your Mucha Week releases from the 2D Market store now!