With this post, we'd like to express our gratitude for threesomes with a pair of threesome-centric releases. Delicious 3P aside, these releases are pretty different. From circle Meat Field we have The Cat's Pet: a grounded school life Precure doujin with a nice, compact little title and circle Kleitos brings us Vengeful Elf Liselotte 3: Mother and Sister Futanarape for Evil Mental Collapse is an original, full-color fantasy fuckfest with a title most light novels would envy.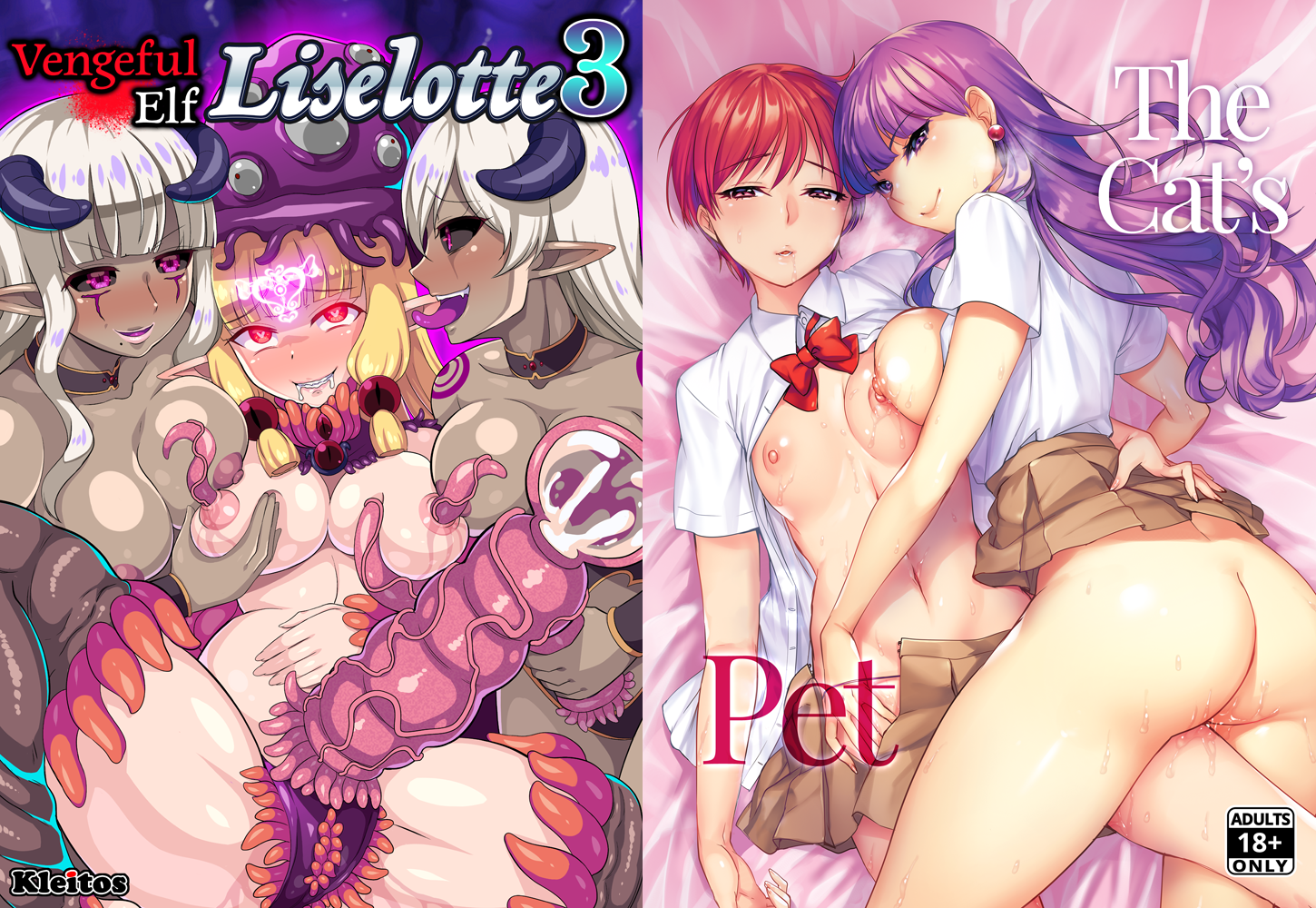 The Cat's Pet is a sequel to a previous Meat Field doujin (find it on the 2D Market store!), but you don't need to worry too much about the previous entry. Suffice it to say: Yukari is a glorious, refined fem dom adored by our main character, her male pet. She has him completely wrapped around her finger and neither bondage, nor humiliating manhandling will dim his passion.
But Yukari is enchanting enough to captivate more than just her pet dildo. She's going to town on him, cowgirl style, when Akira walks in. She's disgusted with Yukari's lewd behavior and tries to tell her off, but Yukari knows better and quickly turns the tables on Akira–exactly as you'd expect a master to control her pet. And then she gets an idea. What if her pets were to play… together? Akira is pretty nervous about guys, but is a pet really going to defy her master?
(No. She's not.)
Unlike The Cat's Pet, Vengeful Elf Liselotte 3: Mother and Sister Futanarape for Evil Mental Collapse picks up right where the previous chapter left off. We've summarized the previous chapters before, but here's a refresher on the basic facts: Liselotte's village was destroyed and her mother and sister ostensibly killed. Liselotte made a deal with a demon to gain "lust seals" that amplify her magic and protect her sanity and heads off for revenge. It doesn't go well. She grows a dick. There are tentacles. Chapter 2 reveals that her mother and sister are alive, but have been mindbroken and futa-nized by their captor. Tragedy-laced incest ensues.
Chapter 3 continues the mother-daughter-daughter futanari orgy, but kicks it up a notch with some truly intense tentacle action. Seriously, if tentacles in and out of every orifice is what you're into, this is for you! The lust marks preventing Liselotte from descending into mindless pleasure had long since become more of a curse than a blessing, preventing her from sinking into sweet oblivion, but even powerful magic has its limits. Like a stomach stuffed full of your mom's sperm.
Whether its three related futanari in the dread womb of a demon lord or three school kids fucking on the floor of a gym storehouse, adding a third partner to a sexual encounter increases the spiciness of an encounter threefold and allows for that many more exciting positions and dynamics. Truly, a blessing.
You can find both of these titles on the 2D Market Store now. Thank you!